On the Axis of this World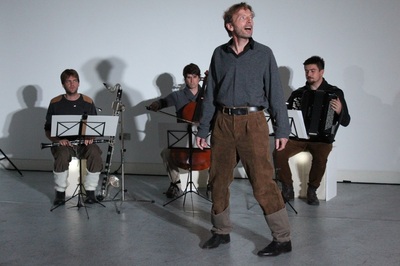 On the Axis of this World was commissioned by Cambridge City Opera in conjunction with the Scott Polar Research Institute and premiered at Kings Place, London, in 2014 as part of the Tête à Tête opera festival. It was directed by Sinéad O'Neill and is scored for countertenor, baritone, spoken voice, clarinet, cello and button accordion.
The piece is inspired by Antarctic exploration and, in particular, the British Antarctic Expedition of 1911-13, when Captain Robert Falcon Scott and four of his companions died on their way back from the South Pole. On the Axis comprises five regions – Snow, Land, Light, Life and Sea – each a meditation on the layers of time and memory that haunt Antarctica. Together they form a shifting musical landscape in which the explorers' words and phrases are embedded, encompassing scientific observations and personal accounts.
Below is the complete piece, recorded live at the Scott Polar Research Institute, Cambridge.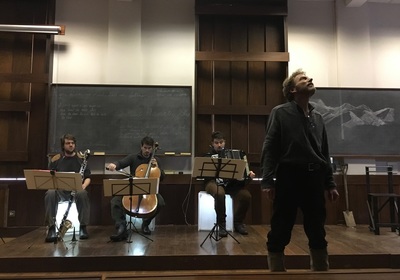 The texts for this piece are drawn from the follwing sources:
Henry Bowers, letter to his sister; Meteorological Log-book, Terra Nova; Ship's Log-book, Terra Nova; Raymond Priestly, Meteorological Diary; Victor Campbell, Journal (all thanks to the Scott Polar Research Institute); Lester King, The Morphology of the Earth (Edinburgh and London: Oliver and Boyd 1962). The title is a quotation from a lecture given by Captain Scott.