Matt is currently Doctoral Composer in Residence at Royal Opera, London
Working as a member of the Guildhall School of Music & Drama research
department to make a new opera for premiere at the Royal Opera House's
Linbury Studio Theatre in 2020.

Currently available:

Weep at the Elastic as it Stretches on  BBC Radio 3 – Listen on iPlayer (UK only)
(Kammer Klang, Scenatet Ensemble – interview at 35:42 performance at 41:10)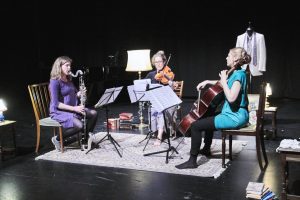 Broadcast as part of Radio 3's Hear and Now programme.
Recorded live at its performance by the Danish ensemble Scenatet at
Café OTO on January 13th, 2018
SK√​-​1 experimental Casio album available now on SLIP
The Virtues of Things
Henry Moore Institute: Essays on Sculpture
Issue 75 of the Henry Moore Institute's Essays on Sculpture series is dedicated to the opera,
The Virtues of Things, a collaboration between Sally O'Reilly and composer Matt Rogers.
The publication features the full libretto, images of the production and a roundtable discussion
exploring sculptural thinking, where O'Reilly and Rogers were joined by Professor Matthew Fox
(University of Glasgow), Lisa Le Feuvre (Henry Moore Institute) and Dominic Gray (Opera North).

Order a copy here.