And London Burned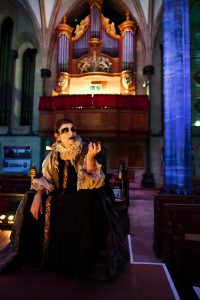 And London Burned was commissioned by the Temple Music Foundation to commemorate the 350th Anniversary of the Great Fire of London. It was premiered on October 26th 2016 at the Temple Church, London, and sung by Raphaela Papadakis (London), Alessandro Fisher (Law Student), Gwilym Bowen (Londoners), Aoife O'Sullivan (Londoners) and Andrew Rupp (Duke of York, Dryden, Londoners). The piece is scored for clarinet, bass clarinet, 2 horns, 2 cellos and organ, performed by Rozenne le Trionnaire, Elaine Ruby, Chris Beagles, Carly Lake, Corentin Chassard, Romain Malan and Roger Sayer respectively, and conducted by Christopher Stark.
The production was directed by Sinéad O'Neill with design by Kitty Callister and lighting by Jelmer Tuinstra.
The original libretto by Sally O'Reilly can be found here.
To view the original concert programme – including story synopsis and notes from composer and librettist – please follow this link.
Below is the complete opera, recorded live at the Temple Church. The Epilogue contains a section of organ music by Matthew Locke, a leading figure of the English Baroque, whose 1673 treatise on music theory, Melothesia, was published while Composer in Ordinary to Charles II.