Graphics Interchange Format: 25 Years of Focal Point Gallery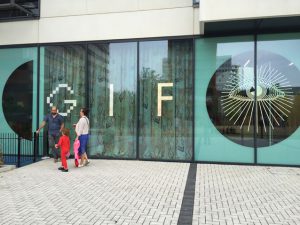 Graphics Interchange Format was a multi-screen installation comprising hundreds of artist-made GIF animations. It was designed to commemorate the 25th anniversary of Focal Point Gallery and produced in collaboration with Fraser Muggeridge studio. I was asked to make a soundscape for the installation and created a series of audio collage loops titled Iff.
In the full installation, each Iff cycle takes its turn, gradually phasing in and out of existence, weaving a musical texture from the overlapping relay of multifaceted sound-objects. Below is a selection of eight discrete Iff loops created for the project.