The Virtues of Things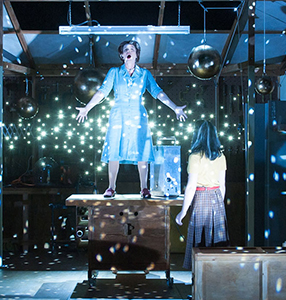 The Virtues of Things was a co-commission and co-production between Royal Opera, Aldeburgh Music and Opera North. It premiered on May 2nd 2015 at the Royal Opera House Linbury Studio Theatre, London, and was performed by David Stout (Selby), Fiona Kimm (Ellipsis), Robyn Allegra Parton (Peg), Paul Curievici (Eames), Richard Mosley-Evans (Dr. Gravid) and Aurora Orchestra conducted by Richard Baker. It was directed by Bijan Sheibani with design by Giles Cadle and lighting by Matt Haskins. The production then toured to the Britten Studio, Snape, and the Howard Assembly Room, Leeds.
The plot of Virtues was devised from scratch by myself and Sally O'Reilly, who's wonderful libretto can be found here.
To view the original concert programme – including story synopsis and notes from composer, librettist and conductor – please follow this link.
Below is an extract from Act I: Ellipsis, Peg and Selby de Selby are regarding the blueprint for an epic new prop they have been commissioned to make when designer Eames arrives to stand in for their ill Aunt, Parabola…
Issue 75 of the Henry Moore Institute's Essays on Sculpture series is dedicated to Virtues. The publication features the full libretto, images of the production and a round table discussion exploring sculptural thinking, where myself and Sally were joined by Prof. Matthew Fox (University of Glasgow), Lisa Le Feuvre (Henry Moore Institute) and Dominic Gray (Opera North). A copy of the publication can be bought here.