We Happened to Travel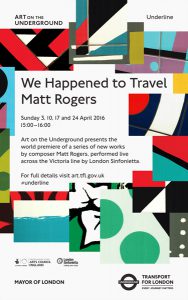 We Happened to Travel was commissioned by Art on the Underground for their Underline series, in collaboration with the London Sinfonietta and costume designer Jenny Hayton, and alongside works by the artists Giles Round, Liam Gillick, Zineb Sedira and the architectural collective Assemble.

Art on the Underground is London's largest art programme, dedicated to 'maintaining art as a central element of Transport for London's identity'. As the first composer ever commissioned I was invited to make work for 'Underline: Art & Music for the Victoria Line'. In response I created a network of pieces contemplating the Tube as a site of relocation in time and space, the rich possibility for chance encounters, and exploiting the unique ambient qualities of the Underground environment.

The body of work is collectively titled We Happened to Travel, and comprises:
3 Displaced Duets – one each for horn, flute and cello. Collective duration 24′
We Happened to Travel – wind dodectet. Duration 15′
Music for Station Broadcast – recorded marimba. Duration 11′
Sample Set – freely downloadable recordings of the Victoria line.
In Part One of We Happened to Travel performers journey to King's Cross Tube station via the Victoria line, playing as they go. As they converge at their destination, the twelve parts fuse into a single whole. They continue to play as they make their way to the 'stage' (an area of King's Cross) where they perform a multi-movement piece in various configurations of the ensemble, including the full dodectet. This piece is interspersed with the three Displaced Duets.
In each Displaced Duet a solo performer plays live in tandem with a recording of themselves which was made in a different Victoria line location. The duet between the live and recorded performances realises a whole which would be impossible for either element to achieve alone, and does so across a dislocation of space and time. Below is the final video piece of Tim Gill performing the Displaced Duet for Cello.
Music for Station Broadcast is a series of pieces for marimba, recorded to be played as ambient music in Victoria line stations. Many tube stations broadcast music as a regular part of their daily operation, and this part of the project was intended to contribute original works to that repertoire. Unfortunately this part of the project was never fully realised due to production demands in other areas, but one day I would like to return to the idea.
Below is a short documentary of the full We Happened to Travel event.
Sample Set comprises audio samples reorded on the Victoria line, ranging from long, ambient atmospheres to short, percussive sounds, and from the clearly identifiable to the mysterious. It is intended to be listened to, used and appropriated, and can be freely dowloaded without licence from this webpage.